Item 1 on my fall wardrobe list was a just-past-the-knees wool skirt.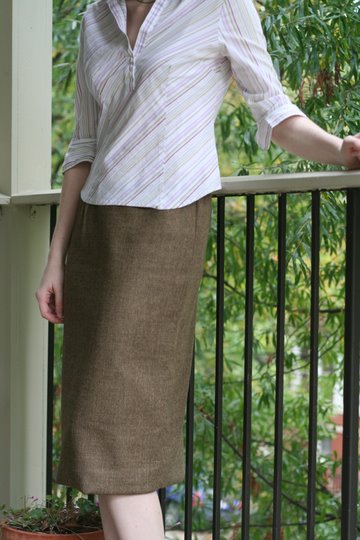 I have another knee-length skirt with an elastic waist that I figured would be a good "pattern" for this skirt. Well, I apparently didn't do a good job of tracing the outline of the original skirt, and was unfortunately too lazy to cut out a muslin, so… it was interesting. Fortunately, I had cut into the lining first, and realized after cutting the front skirt piece that with an elastic waist (and therefore no zipper), there was no way this was going to fit over my hips. So I cut the back lining piece 2″ wider, figuring I would just deal with off-center side seams. That still barely fit… but it did fit. But it was also much more flared than the straight-line skirt I was envisioning. So I redrafted the pattern piece before I cut into the wool, which gave me an outer skirt that fit fine, but wasn't quite the same diameter as the lining. Eesh. And I was determined that this skirt would be "quick" so I plowed ahead and sewed the two together, gathering the outer fabric into the folded-over casing for the elastic waistband.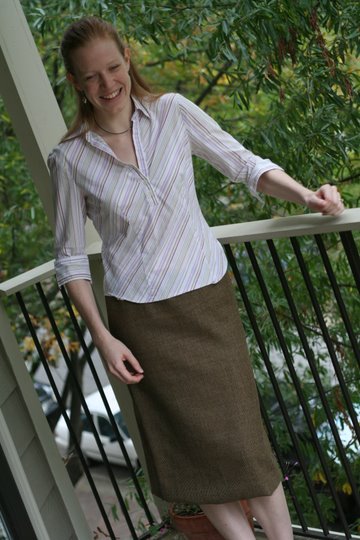 The waist is a bit more gathered than I would like, but I don't really want to unpick the whole thing and do it again.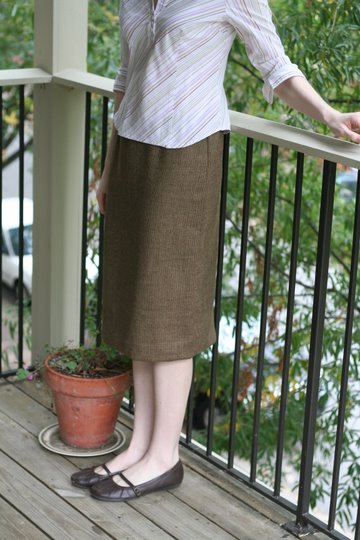 The other problem with this skirt: the skirt is a couple of inches past my knees, and is very straight. I like how it looks, but it does make walking a *teensy* bit difficult since it impedes my normal stride length. Not to the point where I'm taking ridiculously tiny steps, but it's just enough that I have to alter my stride slightly.
Who would have thought a simple, elastic-waist skirt would be so difficult? Here's hoping item 2 on my fall wardrobe list (a duo-tone upcycled shirt) goes a bit better!