After my successful first foray into knitting, I wanted to learn how to knit in the round so I could make cute tiny things. My knitting friend suggested the hurricane hat as a good starting place for learning, so I purchased circular needles and double pointed needles, plus some new yarn. Well, the start of our knit-a-long got delayed by too-much-work-to-do (imagine that), but I wanted to try out knitting in the round anyway.
I wanted something that would be relatively quick, and not too complicated. I found this adorable bunny pattern that seemed to fit the bill.
It was designed to hold a cadbury creme egg, but alas, there are none of those to be found in my house right now, so I stuffed it with polyfil and sewed the bottom shut instead.
This was a really great project to learn on. It was small enough that it knit up in an evening, and I wasn't too invested in it if I messed up. It also gave me the chance to practice increases and decreases, plus, of course, knitting in the round.
And to top it all off, it's totally adorable. I think I was literally squealing with excitement when I finished it and saw just how cute it was.
And of course, I couldn't stop at just one.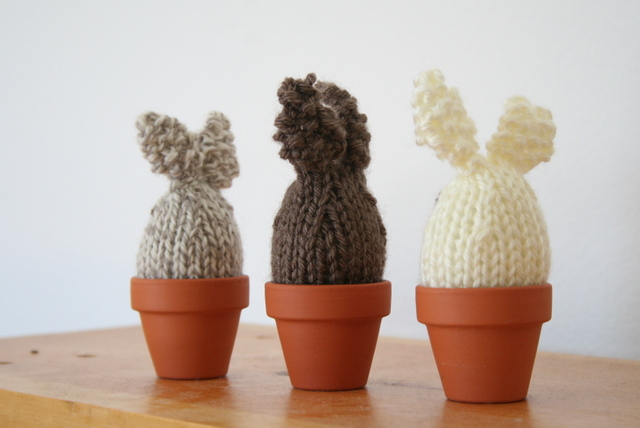 See all the details on my ravelry project page, and maybe knit one for Easter! (another adorable Easter project would be this reversible duck-to-bunny – how awesome is that?!)