As I mentioned, we're heading to the beach soon, and a long car ride + a lot of down time means I need a good portable project to work on when I don't feel like reading. I've been wanting to start a new cross-stitch project for some time but hadn't been able to decide what to do. I had the idea to turn one of my photos into a cross-stitch design, and I thought that would be a sufficiently involved pattern to keep me busy for a while.
I started with a photo of a moose that I took when we were in Colorado last fall. First, I tried using a Photoshop filter to make it into tiles.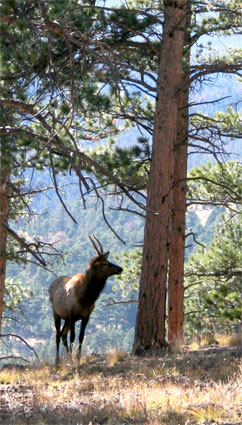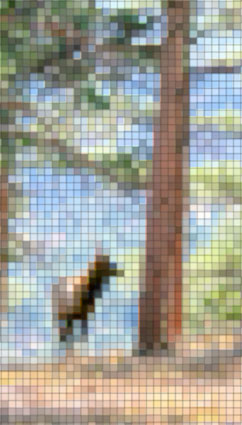 It took me some experimenting to find the right settings to make the squares – and therefore the project – a manageable size. This one measures about 30×60 stitches. So this was all well and good, but there is so much color variation in that pattern that I would have to buy a huge array of embroidery floss. I wanted to stick primarily to the colors I already had, for simplicity's sake and to try to avoid a trip to the store. I couldn't think of a good way to make this happen, though. I tried to block off areas of the pattern and color them in with fewer colors, but that was taking forever and didn't look very good.
After some searching, I found a site that turns photos into cross stitch patterns. Hooray! The site let you choose the final stitch count and how many colors you want, among other things. Unfortunately, this gave me a set of very dull, grayish colors, as you can see below left. Using Photoshop, I tried to pick out blocks of colors and re-color them to brighter hues… but also got frustrated with that. Finally I realized that when you export images from Photoshop, you can choose how many colors should be in the exported image, and can even specify which colors get locked in, so I could pick out some of the bright greens and blues to make sure they stayed in the simplified image.
Since I chose to go down to only around 20 colors, some parts are a bit blotchy (especially the moose himself), but I figure it won't be too hard to swap out the colors where needed. I'm much happier with this result – the colors are vibrant and closer to what I have on hand.
Next up is to making a travelling kit, with the colors I've picked out as closest to my pattern, cloth and some needles. Oh, and I need to print my pattern. Which might be a bit tricky seeing as our printer is out of blue ink…