Months ago, I started braiding a rug with strips torn from old sheets. I liked how it looked, but it was taking fooooorever. I would braid a foot or so of strips together, then hand-stitch them to the rest of the rug, and repeat over and over. I hadn't worked on it in a few months, mostly in the busyness of Christmas and then moving, and also because it was so slow-going.
That was before I learned how to crochet, however. We just moved into a new place that has all hardwood floors, so we're in need of some rugs. I realized that crocheting a rug would probably be much faster and more enjoyable than the braiding process, so last weekend I purchased the biggest crochet hook I could find, unpicked all the braids, and started over. In one evening, I had undone hours and hours of work, and crocheted all the strips back into a rug.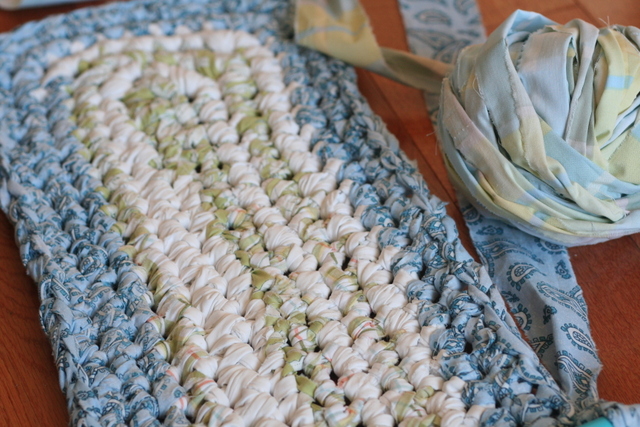 I've been adding more colors from my stash of thrifted sheets, and am amazed at just how fast this rug is growing! I've got a few more sheets in similar blue/green/white colors, but I think I may have to start scouring the thrift stores near me to find more material – it goes fast.
Interested in making your own? I'm using 2″ wide strips of cotton, torn from old sheets. I sew the ends together at a 45 degree angle (like this), and then use that as "yarn" to crochet with. My crochet hook is a size Q, and I'm crocheting in the round. I started with a chain of about 20 single crochets, and am putting three single crochets into each corner stitch of each round to create the rectangular shape. You can see that it was ending up a bit parallelogram-esque at the beginning (the white/green rounds), but by shifting which stitch you put the 3 single crochets in, you can move the bulk to one side or the other.
Hopefully this attempt at the rug won't take 6 months to get past this point!