Lately I've been knitting lots of tiny things, and I got it in my head that I wanted to knit some tiny Christmas trees. I couldn't find a pattern that was appropriately tiny and tree-like, so I did some experimenting, and came up with one.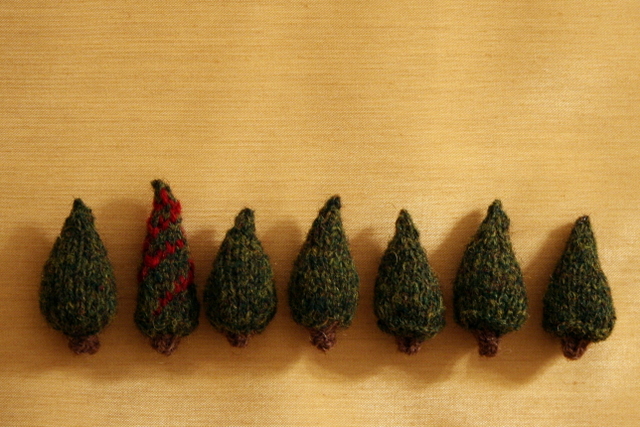 Materials needed:
Bit of foresty green yarn
Tiny bit of brown yarn
4 DPNs
Bit of polyfill stuffing
Small magnet (optional)
I used Shetland Spindrift, a fingering-weight yarn, to make these teeny Christmas trees and size US1 needles. My trees ended up about 2″ tall. You could, of course, use thicker yarn to make slightly larger versions.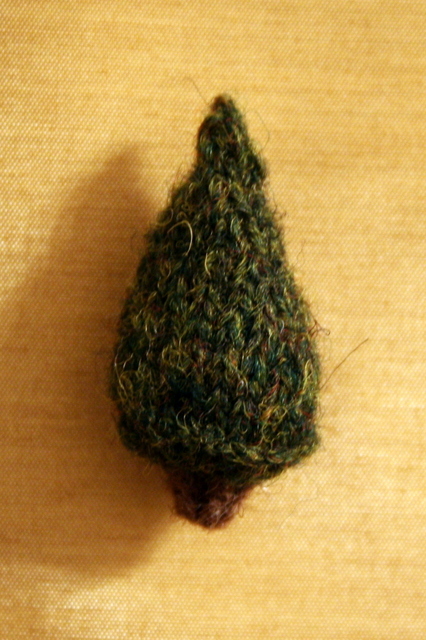 Abbreviations:
Kfb: knit into front & back of stitch
K2tog: knit two stitches together
Instructions:
With brown yarn, cast on 6 stitches
Divide onto 3 DPNs and join for working in the round
Knit 2 rounds
Switch to green and break brown
Knit 1 round
Kfb 6 times (12 stitches total)
Kfb 12 times (24 stitches total)
Purl 1 round
Knit 3 rounds
(K2tog, knit 6) 3 times (21 stitches)
Knit
(K2tog, knit 5) 3 times (18 stitches)
Knit
(K2tog, knit 4) 3 times (15 stitches)
Knit
(K2tog, knit 3) 3 times (12 stitches)
Knit
(K2tog, knit 2) 3 times (9 stitches)
Knit
Stuff tree firmly. If desired, add a small magnet within the tree
(K2tog, knit 1) 3 times (6 stitches)
Knit
K2tog 3 times (3 stitches)
Add a bit more stuffing if possible
Break yarn, thread end on tapestry needle and draw through remaining stitches
Weave in ends
Ta-da!
I also made a variation with red garland. To do this, follow the instructions through step 8. On step 9, (knit 8 green, knit 1 red) 3 times. On each successive round, shift the red stitch one to the right. For example, the next round is (knit 7 green, knit 1 red, knit 1 green) 3 times. The yarn carried behind the stitches did pull the tree into a tighter shape (and make it harder to stuff), so I recommend stuffing as you go if you try this approach.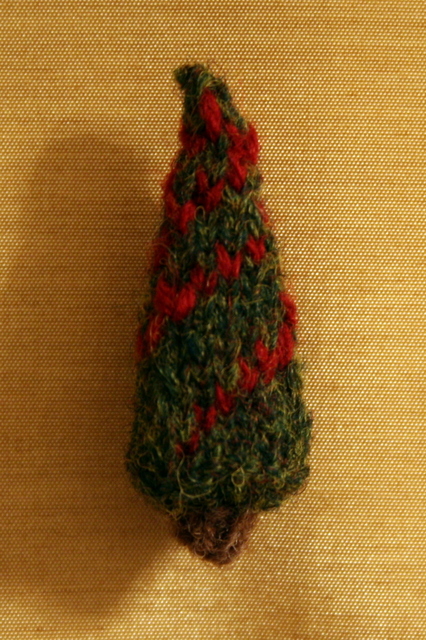 Enjoy!