I have a valid excuse for still posting Christmas gifts, I promise. The last few years, my family has celebrated Christmas in January, to give us more time to see the rest of our families during the actual Christmas holiday. It's been a week since we've been back from my parents', though, so I figured it's high time that I share the last batch of our handmade gifts.
First, another custom-designed pillowcase. Like my sibling-in-laws' tandem bike pillowcase, I designed this fabric and then had it printed at Spoonflower. This pillowcase is a gigantic alarm clock, in happy colors for night time: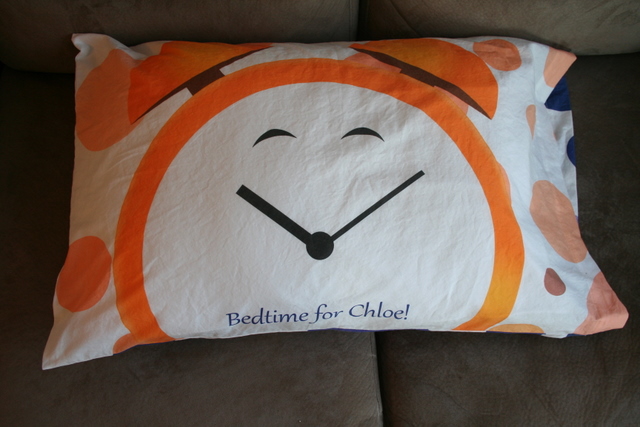 And sadder colors for the morning, since my sister (like me) doesn't really like to wake up:
If you want a way to recycle your Christmas tree, this next gift is ideal: a recycled tree suet feeder.
We sawed off the lower limbs of our Christmas tree, then sawed off the bottom 14″ or so. We drilled six 1″-diameter holes, and screwed a small eye hook into the top so it can hang.
The final, most random gift: davedavedavedavedave.com, a gift for my brother.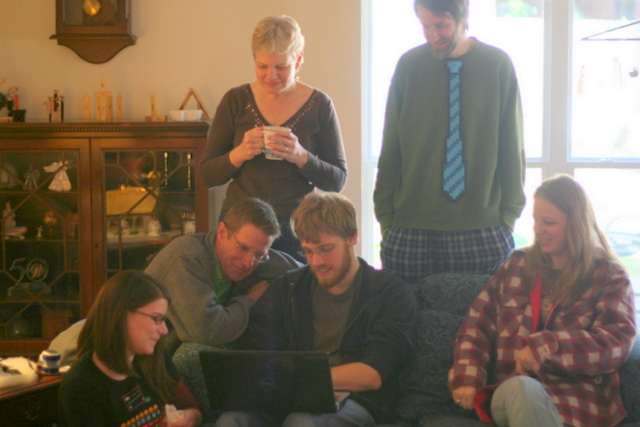 It was a big hit – turn on your speakers to get the full experience.