It's a good thing I live in a place where the average temperatures in November are still in the mid-60s, because I just knitted myself a sleeveless sweater (or a sweater vest, if you insist… but it's not very vest-like).
My in-laws gave me The Shape of Knitting for my birthday this past April, and this is the first project I've knitted from it – the High Profile Top. The book is all about interesting 3-D knitting construction techniques. I really like how the funnel neck is shaped – there are some short rows on the front, which gives the neck some breathing room (literally), so it's not a choke-y turtleneck feeling.
I knitted this in Malabrigo Worsted in Cabernet, which was an interesting yarn to work with. It didn't have a very consistent weight – some bits were thicker and fluffier, some thinner. It's a single ply yarn, and I'm not sure if that's why it's like that, or if it's just this Malabrigo yarn. Either way, it's a really soft yarn and I liked knitting with it except for a few super fluffy parts. I did read that it pills really easily, so I'm going to be careful not to wash it too much. =)
I like the design of the sweater, and the pattern was easy to follow, but it is a bit odd – it's a sleeveless sweater with an intentional holey cable pattern – how exactly am I supposed to wear this? The Malabrigo yarn is 100% wool, so it's warm, and I obviously have to wear something underneath it, so it's too warm for summer. And it's sleeveless… so it's also kind of chilly in all the other seasons. I tried it with a long-sleeved shirt underneath it, but wasn't a huge fan, so I'll probably primarily wear it under a jacket.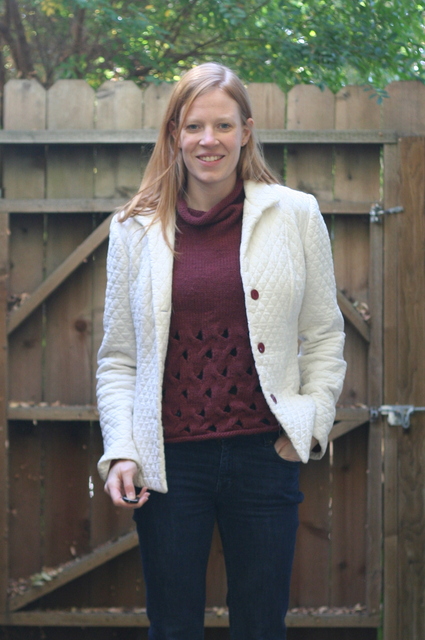 Any other ideas for how to wear this?