This version of my dolman-sleeved shirt has short sleeves (previous tops here and here), just in time for spring. Cute top + jeans is pretty much my uniform for work, and since it's already hot in Hotlanta, it was time to add some variety to my selection.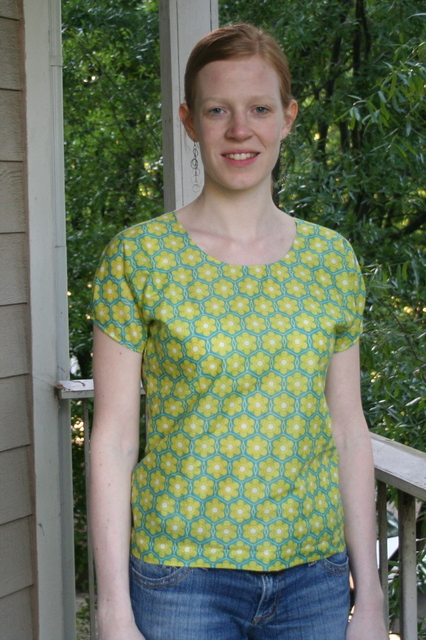 This top is made with Anna Maria Horner's Little Folks voile, which is really nice to wear – it's really soft and drapes very nicely.
I added little pleats to the sleeves so they bubble a little bit. It's not really noticeable from more than 2 feet away, but it helps the sleeve hem lay close to my arm.

This is my favorite of the dolman-sleeved shirts I've made this spring. I think I will make a few more short-sleeved ones similar to this – just as soon as I buy some more voile! A bonus of this sleeve length is that the shirt can be made with less than 1 yard of fabric, and just two seams! This one probably took me 2-3 hours, and that included French seams and making sleeve pleats.