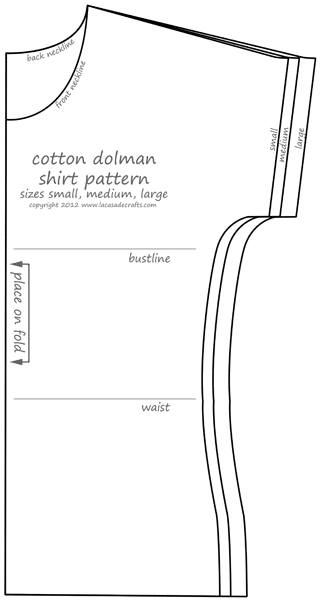 All right, friends. After several practice shirts, I've put together a dolman shirt pattern for you, sizes small through large. A full size chart is below. I've been making myself the "medium" (example here).
The pattern has an optional collar facing if you'd prefer that over a tiny rolled hem, but I found particular joy in making an entire shirt out of two pieces of fabric and no closures.
I recommend cotton voile as the fabric, which is a breezy, drapey fabric that lends itself very nicely to a shirt like this. (I recommend french seams if you use voile.)
Download the free Cotton dolman shirt pattern!
Please do let me know if you make a shirt from this pattern – I'd love to see it! And of course, if you run into any issues, let me know as well.
Sizes:
| Size | Bust measurement | Finished bust measurement | Waist measurement | Finished waist measurement |
| --- | --- | --- | --- | --- |
| Small | 34″ | 36″ | 27″ | 29″ |
| Medium | 36″ | 38″ | 29″ | 36″ |
| Large | 39″ | 41″ | 32″ | 34″ |